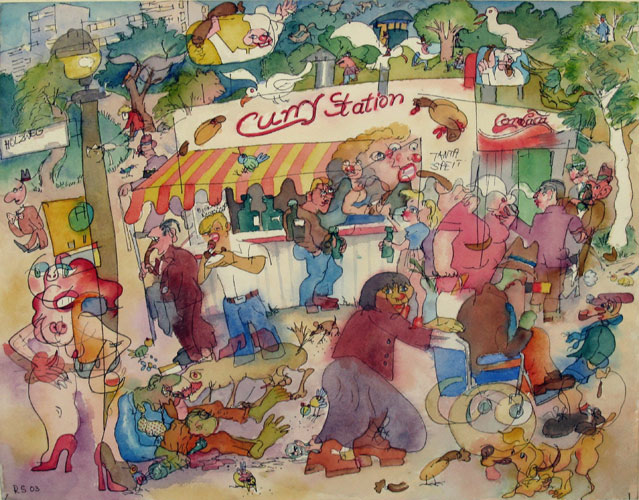 Curry-Stadion, 2003, 50 x 60 cm
Verzeichnungen oder Blindzeichnungen nenne ich eine Gruppe von Arbeiten in denen ich mit geschlossenen Augen die Konturen vorzeichne und dann in einem zweiten Arbeitsgang, jetzt wieder mit offenen Augen, die bei dieser Methode sich zwangsläufig ergebenden Zufälligkeiten farbig interpretiere. Interessant an dieser Methode ist für mich wie sich die Körper und Formen quasi kubistisch gegenseitig durchdringen. Nur das diese Durchdringung hier weniger auf strenger Formenanalyse beruht wie im klassischen Kubismus als auf dem Zufall.
Verzeichnungen or blind-drawing is the method were I draw either with my eyes closed, or, if I draw from nature, without looking on the paper. Mostly I do simple outline-drawings and, in a second step, give it an interpretation with colour and do some shadowing with my eyes open again. Some of the ink-drawings I also left untouched. The idea is not to accomplish a feat, but quite the opposite to break up realistic form in a way that is essential. It is also a relaxed way to draw, you don't need to worry weather you get it right, because you never get it right.